Simply making meetings better.
PLUS has been a leader and innovator in the COPYBOARD market ever since it introduced the world's first copyboard in 1984. Many advances have been made over the years, but the basic philosophy has remained the same: Keep it simple! PLUS Copyboards require little or no training. Most of the board's functions are accomplished with the push of a button.
Such Simple Operation brings dramatic results to Meetings.
When PLUS Copyboards are used, meetings are more lively as well as more dynamic and productive.
Meeting attendees can easily contribute to the process by adding their own comments to the board.
Meeting attendees can give their full attention to the presentation since it is no longer necessary to take notes.
When the meeting is over, you can be confident that everyone understands the material since they have exact copies of what was written on the board.
Store your Work DIGITALLY
With digital storage functionality, the PLUS N-20 Series expands organization-wide communication. The N-20 Series allows you to store and retrieve the data from the board through either a Direct PC Connection, or by using a USB Memory Stick. Images are saved in color as JPG, PNG, or PDF files. Once the image data has been downloaded to your computer, you can utilize it in many useful ways:
Keep high-resolution Documentation of meeting minutes records for future reference.
Easily distribute exact copies of your work via email. Send it to absent audience members!.
You can Edit the images, paste them into office documents and web pages, or attach them to e-mails.
Digital image files are a space-saving and "green" way to store your notes from meetings and presentations.
By e-mailing the files you can easily share your notes and ideas with anyone and everyone.
Store your Work in PAPER COPIES
With plain paper copies you can easily present your audience with on-the-fly exact copies of what has been written on the board.
Conveniently store paper copies for future reference. Color prints are great for contrast and clarity, while black-and-white prints are quick and economical.
Be assured of consistency and accuracy when everyone possesses an exact duplicate of what was written on the board.
Maintain consistency by preventing errors or omissions in drawings, charts, and diagrams.
Listeners can commit their attention to the presentation; not to taking notes.
The Standard model of the new Flagship PLUS Copyboard N-204s has - 4 - writing panels with expanding writing space that will hold all your meeting discussion notes. With network functionality and possession of clean design will compliments any office space.
BEYOND THE WHITEBOARD
Just like you would do on a whiteboard, you write directly on the panel surface of the copyboard – take notes, draw diagrams, brainstorm.
Unlike when using a whiteboard, with a copyboard you are able to retain your work.
You have the option of printing or electronically storing what has been written on the board.
Or you can simply push a button to have the board scroll to a clean panel, allowing you to continue writing without losing your current work or your train of thought!
PLUS N-204S Network 4- Panel Copyboard
PLUS N-204s Network Copyboard, the board has a sheet size equivalent to 4 writing panels-enough space to hold all of the Ideas generated during an active meeting. No need to stop and erase; Just keep on writing. It works with usual erasable markers - Four Colors (Red, Green, Blue and Black) with the ability to capture notes shown and written on the screen for instantaneous printing or digitally saving. With the ability to both Print and Save to a single file on a computer makes the unit especially useful for business meetings, engaging students and colleagues in a variety of instructional applications, including training rooms and classrooms. PLUS Copyboards are designed from the ground up for ease-of-use, making it a breeze to setup and simple to operate.
The PLUS N-204S Network Electronic Board comes as a path breaking solution to break the boredom of conventional working style. Designed to offer an exceptional ability of storing your work digitally, N-204S Copyboard can hold double amount of information easily saving important notes in colored as well as monochrome formats and print them for future reference. Featuring four writing panels in its design, this PLUS N-204S Copyboard features a lightweight design that can be easily mounted on any wall or partition and is highly portable too.
The PLUS N-204S standard copyboards with network integration, smartphone functions and thumbnail print is an advanced color copyboard allowing the user to save their notes to a network so that anyone on the team can access the notes from their personal computer. Of course, notes can also be saved to a USB memory stick or printed out from an on-board printer (optional). Using the PLUS "MTG pocket app" on a compatible smartphone allows users to operate and save notes directly to their phone.
Numerous LED indicators and a motorized page drive also find a vital place in the engineering of this PLUS N-204S Electronic Board to work brilliantly with its multiple capture board functions.
Store Work Digitally
Store and retrieve the data from the board through either a direct PC connection, or by using a USB memory stick. Images are saved in color as JPG, PNG, or PDF files. Once the image data has been downloaded to your computer, you can distribute copies of work using email and send to absent audience members, insert board writing into business documents, edit and enhance your work using software, and reduce clutter with compact digital files.
PDF, JPG and PNG Support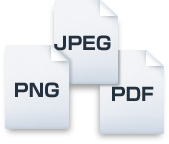 Users have more options for the easy handling of image files for the purpose of printing, saving to a USB memory stick and saving to a PC. With a USB Memory Stick inserted, simply press the "SAVE" button. The writing surface is scanned and your work is saved as image data. Choose between PDF, JPG and PNG file formats for saving your data at 300 DPI resolution. Digital copies save money and paper. When the meeting has concluded, you can email the notes to the meeting participants and to colleagues that were not present! Save image files to USB memory or a PC in either PDF, JPG or PNG formats.
Network Function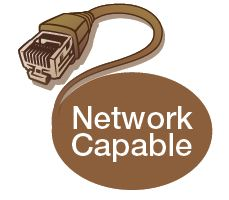 Connect the N-20S to your network to save and share work over that network via ethernet cable or by connecting it to a regular wireless router. You'll have two options for saving and sharing your work over the network. First, you can save to an FTP server when connected so that everyone on your team has access to the saved information or you can save your copyboard data to the board's internal memory - Approximately 100 pages can be stored. Using an assigned IP address, your team can access the saved information on the board from their computers or smartphones using a web browser. The data on the board is accessible in standby mode as well. You can benefit from the added SECURITY measure of Password protection the board.
Integrated Software
No need to install software, simply connect your computer - both (Mac or PC) are compatible - to the board using a USB cable whenever you want to save the information image.
Two Panels of Writing Space
You'll have two panels of writing space at your disposal; simply move the sheet forward or backward electronically or with a touch of your hand. The surface of the N-20 Series boards are easy to move when using just your hand. The scrolling force needed has been reduced to 7 oz (0.2kg) - a vast improvement compared to the previous model's 3 lbs (1.4kg).
Smooth Hand Scrolling & Fast Scanning
The N-20S has two additional updates from the previous model that allow for a better user experience. First, the surface of this board is easy to move when using your hand; the scrolling force needed has been reduced to just 7 ounces. Additionally, the board scans in just 21 seconds; also an improvement over the previous model.
Mobile App (iOS/Android)
The MTG pocket App lets you perform the "SCAN" function of the board from your SmartPhone. The resulting image file can then be previewed and saved to your phone's memory − as well as to the memory of phones belonging to anyone present in the meeting who has the MTG pocket App installed! Furthermore, the MTG pocket App lets you record audio and video during the meeting. The audio and video files are organised in the same folder as the board image files, so that all of the meeting data is in one convenient location. Note: Using the MTG pocket App requires the connection of a "wireless access point" to the board as well as a compatible phone. Compatible with Apple iOS 4 and above and Android 2.3 and above.
<<< Click on either software platform to download.
Magnetic Board Surface
With magnets the board doubles as a bulletin board.
Magnets can be attached to the board surface, making it easy to tack up drawings, diagrams, and other items that could enhance your presentations.
Print Work in Color
Print the contents of the board in color using a compatible inkjet printer. You can use the printer in either the copyboard's wall-mounted or floor-standing configuration. By using plain paper copies, you can present your audience with a copy of what's written on the board. Listeners can commit their attention to the presentation rather than taking notes and maintain consistency by preventing errors or omissions in drawings, charts and diagrams. Additionally, it's handy to have paper copies on hand to refer to later.
Add Company's Header & Footer
Header/Footer Function, This feature automatically adds company logos and identifiers to the printed or saved documents. Doing so helps keep meeting records organized and extends the utility of the documents.
<<< Click on Thumbnail Image to check a saved sample.
Low Power, Saves Energy
The Eco-Friendly Design with the lowest power consumption. The N-20 has achieved the lowest power consumption in the industry. (Only 12 watts during operating and 3 watts on standby) This can both save the environment as well as the running cost.
Disable Color Printing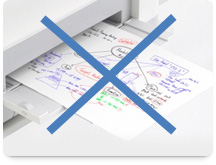 You can disable color printing mode if black and white only is preferred.
Extensive GUARANTEE
Provision of spare parts and servicing from date of purchase.
Panel Size
W 1300 mm x H 910 mm
Active Screen Area
W 1280 mm x H 900 mm
Panels
4
Grid
50mm (2 inches) Squares
Paging
Endless in one direction (horizontal scrolling)
Drive Method
Motorized / manual
Reading Method
CIS (Contact Image Sensor)
Illumination
RGB LED (for reading)
Reading Resolution
Main scanning direction (vertical sheet surface) 50 dpi (1.92 dots/mm)
Sub scanning direction (horizontal sheet surface) 50 dpi (1.82 dots/mm)
Reading Time
Black and white/color: approximately 15 s
Ports
3 x USB (type B for PC and type A for printer and USB flash memory)
1 x RJ45 (10Base-T/100Base-TX)
File Format
PDF, PNG, JPEG
Resolution
3418 x 1728 dots (fixed)
Printing Resolution
300 dpi or equivalent
Colors
16 or grayscale for printing
Compatible FAT Types
FAT 16, 32
Software Requirements
OS:
Microsoft Windows 2000 Professional (Service Pack 4 or Later) / Windows XP (Home Edition/Professional Edition (Service Pack 2 or Later) / Vista (32 bit) / Windows 7 (32 bit / 64 bit) / Mac OS X 10.5 or later

Web browser:
Windows: Internet Explorer 6.0 or Later Macintosh: Safari 4 or Later
Power Supply
AC power adapter:
Input: AC 100-240V/50-60 Hz, Max 0.75 A
Output: DC 12 V, 3.0 A

Power consumption:
In standby: 3W
During operation: 12W (not including printer)
Temperature
50 to 95° F (10 to 35° C)
Humidity
30 ~ 85% (with no condensation)
Dimensions
78 x 3.5 x 39.4" (1980 x 89 x 1000 mm) (WxDxH) (without marker tray)
Weight
55 lb (25 kg)
Optional Mobile Stand with Printer Tray
Optional wall mount printer tray
Optional Color Laser Brother Printer
Brochures Catalogues Manuals
Plus N-20S Electronic Copyboard
4 x Markers (Black, Red, Blue, Green)
Eraser
AC Power Adapter
9' (2.7 m) USB Cable
Wall Mounting Brackets
User's Manual
Stand NOT included - Please Check Accessories Tab if required.
Printer NOT included - Please Check compatible printer list from Supported Printers List
Wall mount printer tray NOT included - Please Check Accessories Tab if required.
Plus N-20S Electronic Copyboard WARRANTY
Initial Year Warranty for any manufacturing defects starting from date of purchase.
7 Years GUARANTEE for provision of spare parts and servicing from date of purchase.
Plus Electronic Copyboards Certificates
Technology
Custom Tab